47 FSHost servers are currently online
FSHost is a free server program for hosting multiplayer sessions with Microsoft Flight Simulator 2002, 2004, and FSX, as well as Lockheed Martin's Prepar3D. Any user can run the program on their PC to host a session, and players from all four simulator versions can connect to the same session and see each other inside the game.
Some of the features include unlimited players, a web interface, flight plans for ATC sessions, pilot logs, the ability to kick and ban players, Chat Commands, Hop Lists, custom weather, multiple language support, and lots more! Check out all the features here.
FSHostClient is a free program to connect FSX and Prepar3D to FSHost servers. FS2002 and FS2004 are able to connect to FSHost with their built-in multiplayer systems so users of those versions don't need FSHostClient.
Download FSHostClient 1.4 for FSX and Prepar3D here
FSHostSpy is a free program for finding FS2002, FS2004, FSX, and Prepar3D multiplayer games on FSHost servers. It shows a list of FSHost servers currently online, as well as each game's session details, player names, aircraft, altitude, heading, speed, flight plans, and all the other details you want to know before joining a game.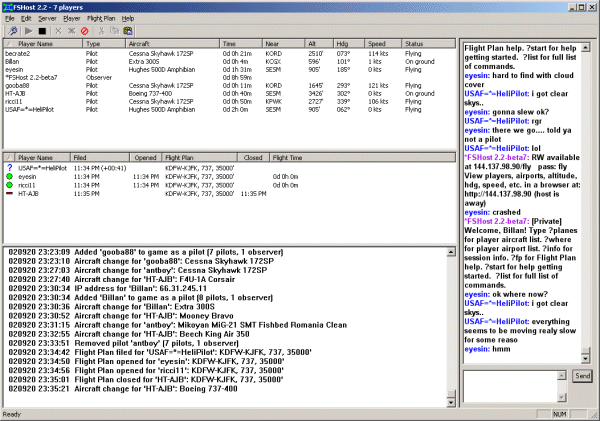 Donations greatly appreciated!
Find out more about how you can support FSHost here.
© Copyright 2002-2013 Russell Gilbert. All rights reserved.